I am so thrilled you stopped by   Corby Winters Pure Empowerment Coaching International, LLC!
Here are some things you might enjoy knowing about me…
I am a Life Coach and I love what I do.  Since I was a young women my passion has been to empower, equip and encourage women, young and old to live life in their passion and purpose.  I work with tweens and teens, young adults and Moms.  I work to help them create the life they want live and the legacy they want to leave…
You might be thinking right about now,  How does Corby go about her Teen and Mom coaching?  Well, let me tell you.  I share  life skills, biblical principles and  practical tools and good old life application tips to help women from about 7 to 70 live life in their passion and purpose. I love working with women and teen girls.
I also help identify personal, professional and parenting goals in their lives and work with them to make a plan to achieve those goals. My job as a Mom Coach is to support and encourage MOMs to Make Our Mark.  I also provide accountably to help them get where they want to go.
I help moms identify any roadblocks they are facing and then we work together to face those roadblocks that are keeping them from their living the life they want.  Together we face their fears, procrastination, perfectionism, disappointments, weight issues, stress and anything else that is hold them back.   The best part of what I do is we take those roadblocks and use them as stepping stones to reach their greater purpose!
Here are another few fun things you might like to know about me.   I have one husband, three SONs and we live with three dogs, two cats, one snake and all our gerbils are in heaven and long with my wonderful parents.   I lost both my mom and dad in the last several years to complications from Alzheimer's.  But we made it through that season of our life with the Lord's help.  As for me, I coach,  speak,  teach,  write,  blog, and create my own jewelry line.   But  honestly, what I call myself does not matter to me as much as what I to do.
I want women to be passionate about the life they are living and celebrate every moment of it!
If you are interested in Life Coaching, please check out the section called Life Coaching to learn more about my style of coaching and what I can offer I work with the whole woman – Mind, Body and Soul.  My desire is for women to experience the very best in relationships, health, nutrition, style, beauty, home, fashion, personal image, inspiration, and so much more!


If you are looking for a Speaker for your next event. then you can read a sampling of my talks under Empowering Women and Empowering Teens.  As a speaker I make sure my messages are compelling, relevant and tangible to motivate and inspire women to greatness and help them change their lives to be greater wives, mothers, daughters, friends and  sisters.
I love  sharing stories  about life, love, loss and good old life application messages.  I also love to share the gospel of Jesus and hope that you would contact me to speak at your church or other organization
I want others to embrace their lives with un-abandoned fervor, remembering we can all still live an extraordinary life even in the midst of difficult times.  I want you to develop a deeper sense of who you are and why you were created for such a time as this.  I also want to help you develop a deeper and richer understanding of  your worth.  I an confident that we each have a calling, a purpose and a passion to celebrate as we walk each day in healing, wholeness, restoration and freedom. This is my greatest joy!
I invite you to sign up for my weekly blogs where I write inspirational, motivational and encouraging messages each week:
Thankful Thursdays
The Little Black Dress's Guide To A FabYoulous and healthy YOU!
The Little Black Dress' ~ Whimsy, Wit and Wisdom
Special blogs  whenever I feel moved too.
My Enchanted Cottage is a special place where dreams are birthed and hope is rekindled!  I use artistic expression and incorporate that with life coaching to cast a powerful vision for my clients' future and self-identity.  Art is a part of me and I believe it is a powerful way to help others discover who they are and who they long to be.  Art is my heritage and my legacy, which I use to help women find their purpose.   It allows women to discover their passions and most of all, remember who they are and how to birth their dreams and rekindle their hope.
We all have many roles in life. Some know me as  the Chaplain for the Miss Oklahoma Pageant; some as a Power Prayer Girl; and others know me as The Little Black Dress ~a term of endearment my husband coined several years back.  I am the proud mother of  three boys we fondly refer to as the SONs of Thunder and I am the wife of Winters, the writer!
This site is a work in progress just as we all are work in progress.  My primary focus is  help you make choices today that will change your life tomorrow forever!
Be blessed  dear friends as we  embrace and celebrate lives and true Pure Empowerment!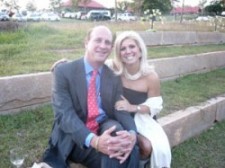 Here's Winters, The Writer and I!   We have been married for 190 years OK, not really but I love to say that. Because let's be honest, there are times in marriage it feels like you have been married for an eternity.  This picture of us was taken on a great day.  We were at a wedding and we felt all put together.  Well, that is except  for the cast on my leg which just you can't see.   Winters and I know first hand that marriage is hard, but we also believe that we are better together than apart.  So we choose to live, laugh, love, and celebrate the good, the bad, the wacky and yes, sometimes even the ugly together.  But dear sweet friends, that is life.  We are both broken pots, broken people who choose each day to love and cherish each other for better or for worse, in sickness and in health, for richer or poorer and even when our life seems to be in shambles. We  also celebrate that in the midst of it all, we are blessed beyond measure to have each other and the SONs of Thunder!
.